For the second day in a row, a large fireball has been seen in the sky over Nova Scotia.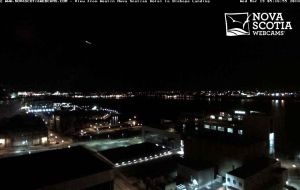 CBC News reporter Phonse Jessome saw the colourful fireball in the northwestern sky above Fall River, 25 km north of Halifax, at 5:17 a.m. AT Wednesday.
He said he saw it make a long, slow entry before breaking up into three or four pieces as it reached the horizon.
"I see shooting stars on this shift [all the time]," Jessome tweeted. "This was no shooting star. Not sure what's going on up there but it looks cool."
Stephen Lukas, who lives in the Hammonds Plains area of Halifax, said he saw the light during his morning run.