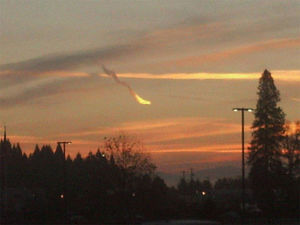 A strange, fiery sight spotted in the skies over the Willamette Valley Wednesday morning caused quite the buzz, with initial reports suggesting perhaps a meteor or burning space junk.
Jim Todd, Planetarium Manager at the Oregon Museum of Science and Industry says original photos suggested to him it might have been a meteor fireball, but he has since seen additional photos that suggest it was instead a jet contrail that created an optical illusion by reflecting light from the rising sun.
A number of residents snapped photos of the scene, and KATU photojournalist Mike Warner also took a short video of the trail while he was flying in their station's helicopter. He said he and the helicopter pilot were over Interstate 205 at the Clackamas Town Center between 6:30 a.m. and 7 a.m. and spotted the odd sight while looking east.
According to U.S. Strategic Command, no man-made objects reentered the atmosphere in our area on Wednesday, which excluded the possibility that some space junk fell to earth.