It'll be closer than any known asteroid this large until 2027.
At its closest, telescopes and binoculars will show it moving rapidly in front of the stars.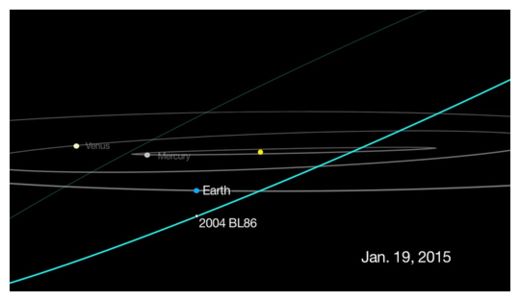 An asteroid, called 2004 BL86 by astronomers, will sweep safely past Earth on January 26, 2015.
The flyby
is notable because 2004 BL86 will be the closest of any known space rock this large until asteroid 1999 AN10 flies past Earth in 2027. This asteroid is estimated from its reflected brightness to be about 500 meters in diameter (about a third of a mile, or 0.5 km). At the time of its closest approach - January 26, 2015 at 16:20 UTC, or 10:20 a.m. CST - the asteroid will be approximately 745,000 miles (1.2 million kilometers) from Earth, or about three times the moon's distance.
Don Yeomans, who on January 9 retired as manager of NASA's Near Earth Object Program Office after 16 years in the position, said:
Monday, January 26 will be the closest asteroid 2004 BL86 will get to Earth for at least the next 200 years. And while it poses no threat to Earth for the foreseeable future, it's a relatively close approach by a relatively large asteroid, so it provides us a unique opportunity to observe and learn more.
The asteroid is expected to be observable to amateur astronomers with small telescopes and strong binoculars beginning in the evening of January 26 and into the morning of January 27. Its peak brightness will be about magnitude 8.8, meaning it will not be bright enough to view with the unaided eye. The asteroid will be at its most visible over Europe, Africa, and North and South America. Australians and east Asians will have to look a few hours earlier, when the asteroid isn't as bright. The asteroid will be moving about four degrees every hour through the course of the night. That's fast, faster than the moon moves (about half a degree per hour). The asteroid will be whizzing past in front of the constellations Hydra, Cancer, and Leo.