The pair, named 203 Pompeja and 269 Justitia, bear a resemblance to objects located in the outer solar system.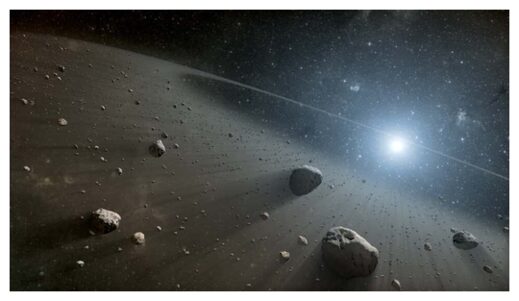 They're red, they're reasonably big, and they have no business being in the main asteroid belt, but their discovery confirms the complex conditions in place when the solar system was still forming.
New
research
published in the
The Astrophysical Journal Letters
details the discovery of two extremely red main-belt asteroids. Named 203 Pompeja and 269 Justitia, the asteroids have a redder spectral signature than any other asteroid in the main belt, that highly populated band of asteroids situated between the orbits of Mars and Jupiter. The new paper was led by Japan Aerospace Exploration Agency (JAXA) astronomer Sunao Hasegawa.
Importantly,
these red asteroids resemble trans-Neptunian objects,
that is, objects located farther away than Neptune, the most distant planet from the Sun (with no disrespect to dwarf planet Pluto). This could mean that 203 Pompeja and 269 Justitia formed way out there in the Kuiper Belt and then drifted inward when the solar system was still young. If confirmed, the new finding shows how chaotic the conditions were back then and that materials from different parts of the solar system would sometimes mix together.
The purpose of the study was to document the distribution and composition of large asteroids in the main belt. Large asteroids, especially those larger than 60 miles (100 km) in width, are likely survivors of the solar system's early days. By studying these objects, the scientists were hoping to catch a glimpse of what the conditions were like some 4 billion years ago.