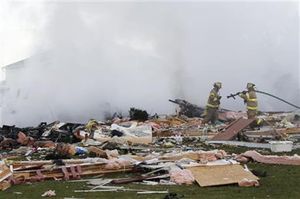 Stony Ridge, Ohio - An explosion leveled a home in northwest Ohio Tuesday morning, killing two people, injuring three and scattering debris up to a quarter-mile.
Investigators were looking into whether a leaking liquid propane tank near the home's attached garage sparked the blast, said Troy Township Fire Chief Randy Woodruff.
The tank was toppled over, and Woodruff said it was too soon to pinpoint the cause of the explosion.
Neighbors said the explosion woke them up around 5 a.m. and they saw flames at the ranch-style home near the village of Stony Ridge, about 15 miles south of Toledo.
One man died after being taken to a hospital, and the body of a woman was found in the rubble about six hours after the explosion.
When emergency responders arrived, four people were found outside the house, the Wood County Sheriff's Office said. Five people - all of them adults - lived in the home. Neighbors said they were a man, his wife, their two sons and a fiance.
Names of the victims were not released.
The explosion flattened the home and scattered pieces of it throughout the yard and across farm fields. Piles of insulation, mattresses, window screens and a door littered the yard. All that was left standing was a basketball hoop along the driveway.