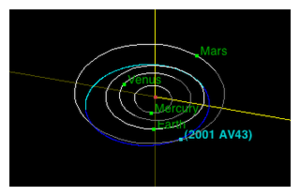 Astronomers are hoping to get a close look at an asteroid Monday as it makes a relatively close pass to Earth.
The space rock, known as 2001 AV43, will approach within 650,000 miles, or 2.7 times the distance from the Earth to the moon. That is considered an eyelash width in cosmic terms.
The rapidly spinning asteroid, discovered on Jan. 5, 2001, by MIT's Lincoln Laboratory, is flying by at a relative velocity of 8,000 mph and has an estimated diameter of between 100 and 230 feet.
That makes it about the same size as the rock that created mile-wide, 550-feet deep Meteor Crater in Arizona about 50,000 years ago. That one was 165 feet in diameter and exploded with the equivalent force of 10 megatons of TNT.
The angle of approach of 2001 AV43 makes it a good radar target for the Goldstone Deep Space Network in California's Mojave Desert and the Arecibo Observatory in Puerto Rico, scientists say.
Meanwhile, astronomers using observatories in Hawaii are gathering information on two recently discovered and surprisingly large near-Earth asteroids.