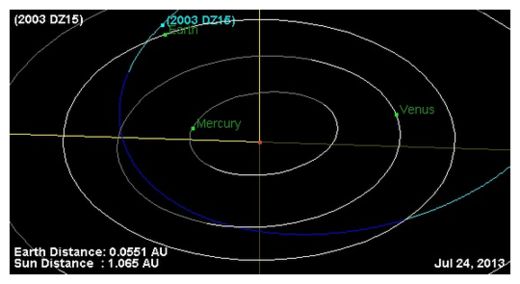 The Earth will get another close shave Monday, when the 152 metre asteroid 2003 DZ15 makes a pass by our fair planet on the night of July 29
th
/30
th
at 3.5 million kilometres distant. This is over 9 times the Earth-Moon distance and poses no threat to our world.
This is
much smaller
than 2.75 kilometre 1998 QE2, which sailed by (bad pun intended) our fair world at 5.8 million kilometres distant on May 31st, 2013. The Virtual Telescope Project will be presenting a
free online event
to monitor the passage of NEA 2003 DZ15 starting Monday night July 29
th
at 22:00 UT/6:00 PM EDT.
An Apollo asteroid, 2003 DZ15 was
confirmed
by the Lowell Observatory and NEAT's Mount Palomar telescope upon discovery in February 2003. This is its closest approach to the Earth for this century, although it will make a pass nearly as close to the Earth in 2057 on February 12
th
.