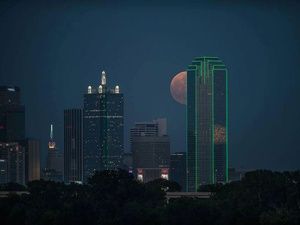 A meteor crossed the sky over North Texas on July 12 at 9 pm, enthralling many around Dallas who watched as it split into two before its inevitable fade. From Denton to Waxahachie, from Lake Ray Roberts to Lake Tawakoni, night-sky viewers witnessed what some described as a double meteor, with two streams of blue-green light racing across the sky to the west.
Many were already watching the sky to catch what was the first perigee moon, aka Supermoon, of 2014. According to Dallas photographer David Worthington, who was lying in wait to photograph the moon against the Dallas skyline, the moon became visible at 8:55 pm. The meteor emerged less than 10 minutes later.
Midlothian resident Mike Prendergast was moon-watching with friends when they spotted what they first thought was an airplane.