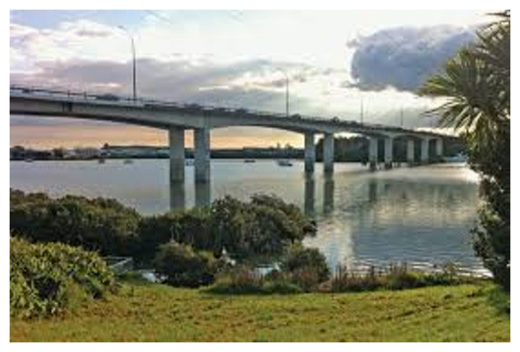 Several Pakuranga residents reported seeing a bright flash of light or a "fireball" above the Tamaki River in the vicinity of Waipuna Bridge at around 6:47 pm on Monday 25 May.
According to some eyewitnesses, the object was alleged to have then crashed into the water.
Reports of a "bright light" and "an explosion" flooded the east Auckland grapevine page as local people recounted what they had seen. Many speculated a meteor, a rocket from nearby Rocket Lab, or even a flare was responsible.
Corinne Hill, whose property on Pakuranga Rd backs on to the river saw "A Bright orange-red (object) about the size of 3 full moons joined together. It (sic) was travelling at speed over the water till it appeared to hit the water and disappeared."
According to Hill,
the object made no sound,
and by the time she "went to get binoculars out" it had gone.
Ms Hill also stated the object "It appeared to grow in size as it travelled, so my initial thought was it looked like a ball of fire but then I got wondering what it was. There were cars on the bridge at the time commuting, so I was thinking one of them may have also seen it."
Police, The Civil Aviation Authority (CAA), and Stardome observatory were approached for comment.