Fragments of a comet likely hit Earth 12,800 years ago, and a little Paleolithic village in Syria might have suffered the impact.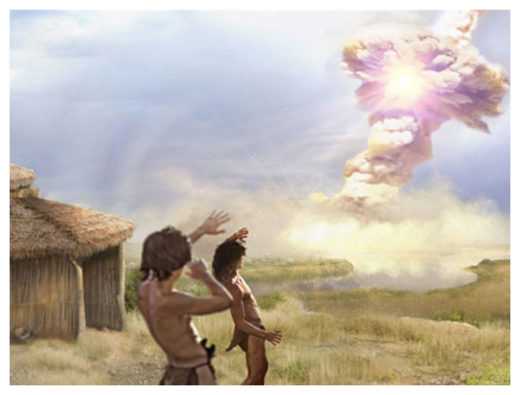 Abu Hureyra is an important archaeological site in Syria, known for artifacts documenting early adoption of agriculture in the region.
It may also be recognized as the only known human settlement to have been hit by a fragment of a comet.
The site, now under the waters of Lake Assad, was quickly excavated between 1972 and 1973 before construction of the Tabqa Dam flooded the area. During the excavation, archaeologists realized that there were really two sites, one on top of the other. The first was a Paleolithic settlement of hunter-gatherers, and the second was a farming town, with new buildings of a different style.
A new analysis of samples of soil and artifacts salvaged from the original excavation has revealed a surprising finding:
The Paleolithic village at Abu Hureyra was indirectly hit and destroyed by fragments of a comet that slammed into Earth about 12,800 years ago.
The researchers think that upon entering Earth's atmosphere, the already-fractured comet likely broke up into several more pieces, many of which didn't reach the ground. Instead, they produced a string of explosions in the atmosphere known as airbursts. Each airburst was as powerful as a nuclear blast, instantaneously vaporizing the soil and vegetation underneath and producing powerful shock waves that destroyed everything for tens of kilometers around. The village at Abu Hureyra was hit by one of these shock waves.