Fireballs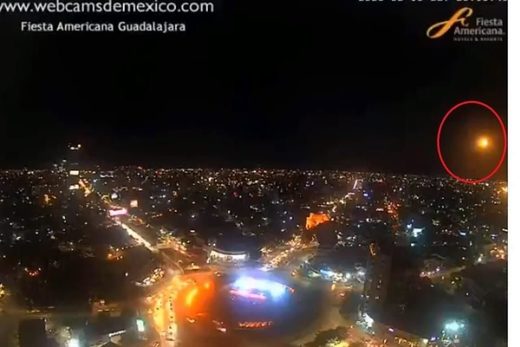 A meteor fireball has been
reported
over the State of Mexico, Jalisco, Guanajuato, Querétaro, San Luis Potosí, Michoacán and Mexico City.
---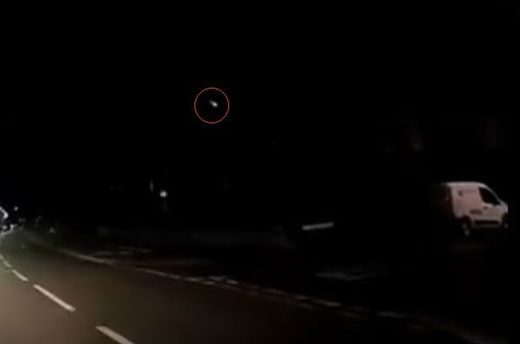 People in Lincolnshire were left amazed after a meteor was spotted streaking across the night sky in Lincolnshire.
The meteor was spotted by people across the county and even seen as far away as London.
The UK Meteor Network, which tracks the
phenomenon
in the UK, said it had received 21 reports of the fireball from people living across five counties at 9.52pm last night, Sunday, February 16.
Comment:
The American Meteor Society has over 80
reports
of the meteor fireball from all over the UK and even from the Netherlands.
The fireball was seen travelling from North to South and cast a bright light which motorist Mark Page, from
Sleaford,
caught the fireball on his dashcam while he was driving through the town last night.
Comment:
Over the past month two other large meteor fireballs have been recorded over England:
---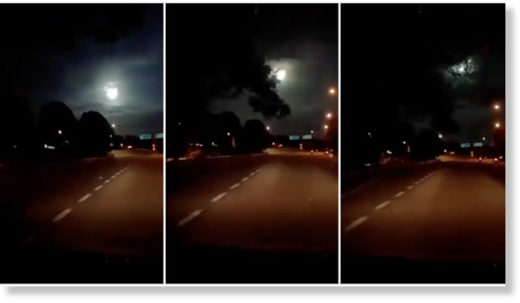 Some Malaysians and Singaporeans were lucky witnesses to a rare astronomical phenomenon when they saw a fireball fly through the sky, video of which has gone viral today.
Dashcam footage of a meteor streaking through the darkness was posted to YouTube by user Violet Crystal, who wrote that it was filmed about 5am on Wednesday in Johor Bahru.
The same clip was reposted to the
All Singapore
Stuff Facebook page where it has been viewed more than 100,000 times and drew comments from Singaporeans who said they also saw it from places including Loyang, Bartley, and Hougang.
---

A meteor shower, that took place at 5:11 am in Itarana Industrial area in Alwar, Rajasthan was captured in videos on Tuesday. Earlier reports had suggested that the meteorite caused a 20-feet deep crater in the factory compound, however, no damage was caused to people living in the vicinity.
Comment:
A local resident, Rajesh Kumar Gupta, said that he felt an explosion and after leaving his house felt a gust of strong wind, according to
reports
. Farmers in Fauladpur city of Shahjahanpur also saw the meteorite.
Ajay Chaudhary, a resident of Kotkasim area, said that while getting milk in the morning, there was a sudden light and rocket-like object appeared in the sky.
Sachin Bamba, chairman of astronomical organization
Space India
, says that it is a meteor, which has fallen on the earth.
A meteorite impacting an industrial area might be explained by the following:
industrial plumes can act as electric attractors for meteorites
because they rise high up in the sky and they hold an electric charge opposite to that of the space rocks.
---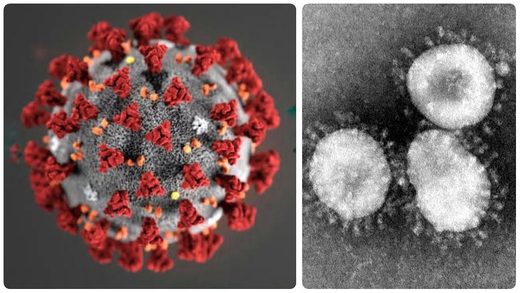 Coronavirus was carried into the Earth's atmosphere on a fragment of comet which spewed out "hundreds of trillions" of viral particles. Medics fear the disease, which can be spread before victims show any symptoms, could spark a global pandemic. The emergence of the new strain of coronavirus is thought to be
the result of panspermia - infective agents in space which eventually reach the Earth's atmosphere
.
Scientists have long held that
viruses, bacteria and strands of DNA exists in space carried on comets and meteorites.
They can drift into the Earth's stratosphere before falling to the surface of the planet posing a risk to human health
, they say.
Comment:
Based on past actual pandemics such as 'the Black Death' about 600 years ago, and the 'Justinian Plague' about 600 years before that, which recorded mortality rates of up to 70% in some localities, this coronavirus is
not
at the level of 'global pandemic'. We will all
know
if or when such an event is happening...
One criticism we have of Professor Wickramasinghe's theory is that he may be reaching by trying to pin it on a specific, recent meteor event over China. That strikes us as being too linear, based on what
he himself has written in the past
- concerning the origins of SARS in 2003, funnily enough - about China being a catchment area for new viral material because of its proximity to the Himalayas and a zone of thin atmosphere...
In a letter to The Lancet, Wickramasinghe explains that a small amount of a virus introduced into the stratosphere could make a first tentative fallout east of the great mountain range of the Himalayas, where the stratosphere is thinnest, followed by sporadic deposits in neighboring areas. Could this explain why new strains of the influenza virus that are capable of engendering epidemics, and which are caused by radical genetic mutations, usually originate in Asia? Wickramasinghe argues that if the virus is only minimally infective, the subsequent course of its global progress will depend on stratospheric transport and mixing, leading to a fallout continuing seasonally over a few years; even if all reasonable attempts are made to contain an infective spread, the appearance of new foci almost anywhere is a possibility.
It seems more plausible to us that, because meteors can and do detonate anywhere, viruses or virus DNA they carry in their particles swirl all the way around the planet and then (tend to) settle to ground level through the 'Chinese opening'. That may only be a general rule, however, as some meteors probably do penetrate all the way through to the troposphere, and certainly some of their meteorites make it all the way to the ground.
However, the primary factor motivating our reporting on the increase in meteor events is not the risk they present from impacting the ground and causing immediate global catastrophe, which is thankfully rare on a civilizational timescale, but because of the far more potent danger they present of delivering new viruses against which there is no defense.
See also:
---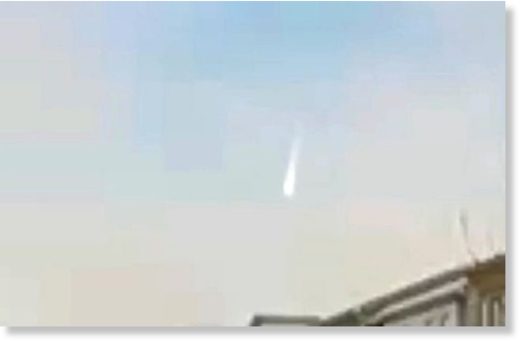 'Shooting stars' are typically more of a nighttime phenomenon, but a bright flash in the sky over Alberta on Saturday might have been an unusual daytime meteor sighting.
The trail of light was captured on film by several viewers in the province, including Tim Wiebe, who found his doorbell camera spotted the streak.
---
MPEC 2020-C111
, issued on 2020, February 06, announces the discovery of a comet (magnitude ~20) by
D. Rankin
in the course of the Mt. Lemmon Survey (G96), in images taken on 2020, Jan 29 with a 1.5-m reflector + 10K CCD. The new comet has been designated C/2020 B3 (Rankin).
I performed follow-up measurements of this object while it was still on the PCCP webpage. Stacking of 16 unfiltered exposures, 120 seconds each, obtained remotely on 2020, February 03.2 from
X02 Telescope Live
(El Sauce, Chile) through a 0.6-m f/6.5 astrograph + CCD, shows that this object is a comet with a compact coma about 5" in diameter slightly elongated toward PA 250.
My confirmation image (click on it for a bigger version)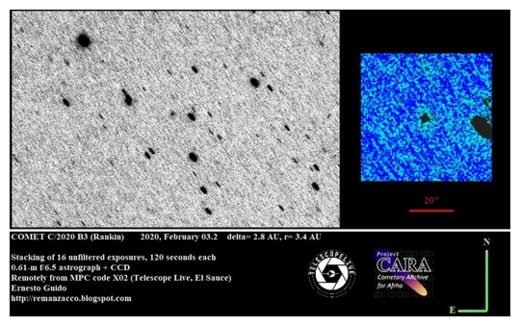 ---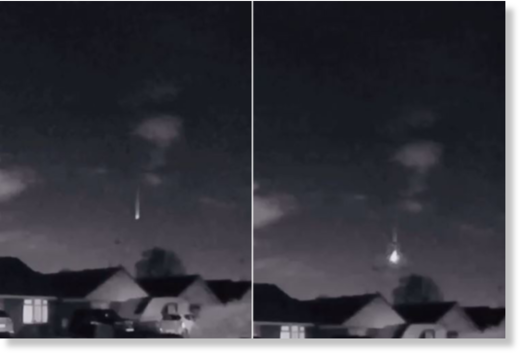 A stargazer has filmed the moment a meteor 'exploded' over his home on Monday night.
Aidan Patten captured the incredible footage on the doorbell security camera of his house in Burley-in-Wharfedale.
A bright line can be seen descending from the sky above Otley before the 'explosion' at around 11.30pm.
Aidan recorded the sighting on the UK Meteor Observation Network's website's fireball reporting system.
---
RT
Sat, 01 Feb 2020 13:04 UTC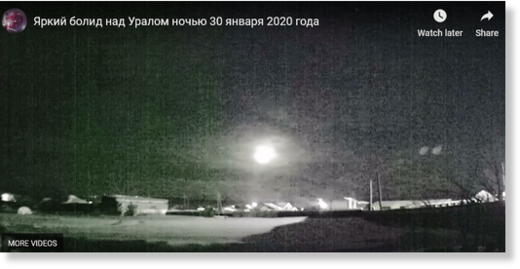 A meteor which put on a spectacular show as it sped across Russia's Urals region was caught on camera lighting up the night sky as it erupted in a blaze of glory this week.
Photographer Ilya Jankowsky captured the stunning spectacle in the town of Irbit in Sverdlovsk Oblast on Thursday night.
Comment:
There have been a LOT of spectacular meteor events lately. Here are a few:
---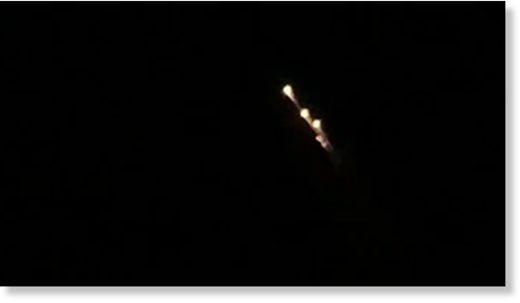 Residents in Southern California were treated to a bright sight Wednesday night, prompting many to take to social media.
An apparent meteor flashed over the region and was caught on camera.
On social media, residents took video of the large bright light resembling a meteor as it flashed across the night sky.
Comment:
On February 1st, NASA's spaceweather.com
reported
:
On Jan. 30th around 10:30 pm PST, a spectacular fireball crawled across the skies of southern California. In Los Angeles and San Diego, millions of people watched it fragment into dozens of pieces high overhead. But what was it? Initial speculation focused on decaying space junk. The slow pace of the fireball combined with its fragmentation--as if parts of a satellite were breaking off in the atmosphere--suggested an orbital decay event. It appears, however, that the fireball was something else entirely.


Bill Cooke of NASA's Meteoroid Environment Office has triangulated data from multiple cameras that picked up the fireball. His conclusion: It did not come from Earth. Instead, the fireball was a small asteroid or comet fragment belonging to the Apollo/Jupiter family. It was orbiting the sun when Earth got in the way, hitting our planet at a speed of 15.5 km/s (~35,000 mph). For comparison, manmade objects in low-Earth orbit typically hit at 7.9 km/s (17,700 mph) when they decay.
The American Meteor Society (AMS) received
101 reports
of the event.
---