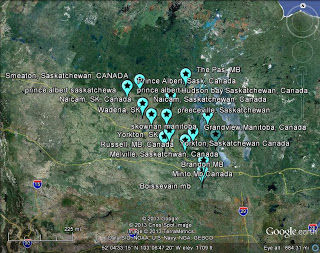 23 May 2013 - Diane Rourke, Boissevain, Manitoba, Canada 11:53 pm central
15 seconds duration. From west to northeast. Fireball with yellowish white color. Very bright and lasted a long time, amazing!
23 May 2013 - Charity Woods, Grandview, Manitoba, 23:50
At least 20 seconds duration. I lost sight of it becuse of trees in the way. It appeared to be going from west to east. I was facing west. White color. No sound. It looked like a huge ball of fire. I thought a plane was going down. It was brighter than the moon, and it's a full moon tonight! It looked huge and amazing!
23 May 2013 - C.K., Yorkton, Saskatchewan, Canada 22:50
30 seconds duration in clear sky. WOW! SW to NE travel. Orange with long tail. Bright and large, best meteor we've ever seen! Very bright orange fireball with sparks coming from the tail. Best ever stellar event!