A powerful fireball was observed over Denmark at around 1 am on Sunday morning (30th of March 2014). The fireball has perhaps let to the fall of meteorites in the Western parts of Jutland.
The fireball was observed by several witnesses. The fireball was captured on cameras, that watch the nights sky in order to register possible meteorite falls.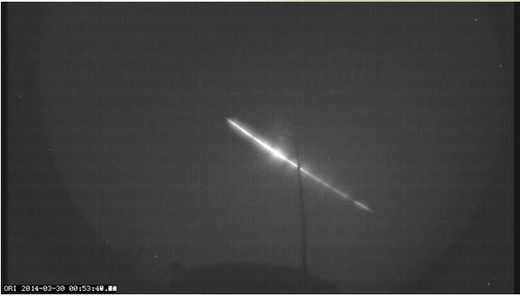 A couple of people have also heard a sonic boom in connection with the fireball. Sonic booms are rather special and unusual which makes this fireball somewhat special.
The thought that there might be recoverable meteorites is based on these sonic booms. Earlier cases of recovered meteorites have almost always been connected with the sonic booms.
The sonic booms are interesting as they can be used to narrow down where a possible meteor might have fallen. We would therefore like to hear from people, who might have heard the sonic booms over the western parts of Jutland in the night between Saturday and Sunday, says Henning Haack, lecturer at the State Museum for Natural Sciences.
Below is a video of the fireball:
Read more
here
Translated by Sott