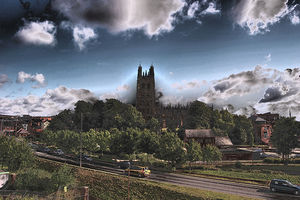 Emergency services dashed to the Pandy area of Wrexham to check out reports of a massive explosion.
Worried residents said
the blast was followed by a sheet of white light which lit up the sky
.
But after spending about two hours searching the area late on Monday night, police and fire service patrols found nothing to indicate what caused the bang, which was heard as far away as Acton and is said to have been
so severe that it shook buildings
.
Calls from concerned residents began flooding into North Wales Police at around 10pm.
North Wales Fire and Rescue Service was also alerted and sent three crews from the Wrexham station to Pandy.