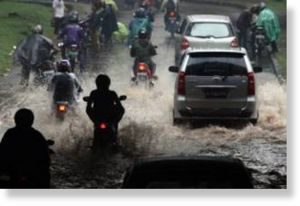 Indonesia has been experiencing its most extreme weather conditions in recorded history, meteorologists warned on Wednesday as torrential rains continued to pound the capital.
All regions across the archipelago have been experiencing abnormal and often catastrophic weather, an official from the Meteorology, Climatology and Geophysics Agency (BMKG) said.
"
We have reached a super-extreme level of weather this year, the first time in our history
, and this is much worse than what we experienced back in 1998, when the La Nina caused extreme weather in the country," Edvin Aldrian warned.