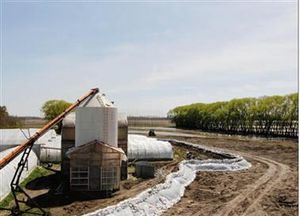 Delta Beach, Manitoba - Swollen with water from the Portage Diversion and driven by a gale, Lake Manitoba reared up on Monday and slammed against the shores in cabin country.
Thirty homes in Delta Beach were placed under voluntary evacuation, hours after a blustery north wind sent water crashing against homes, surging over some of the community's roads and swamping three cabins on its southern edge.
The Rural Municipality of Portage la Prairie was monitoring the situation "hour by hour," an official on the scene said, in case a mandatory evacuation order was needed.
But while some cottagers and full-time residents were spotted driving away, cars packed with clothes, other residents along a mucky stretch road stayed, betting that the roads out would stay passable.
With most sandbags in place, all they could do was watch the waves break and wonder what might happen next to the lake that is, suddenly, a threat.