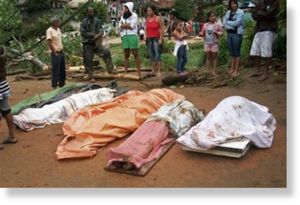 Torrential summer rains tore through Rio de Janeiro state's mountains, killing at least 140 people in 24 hours, Brazilian officials said Wednesday. Rescuers using heavy machinery, shovels and bare hands struggled to dig through tons of mud and debris in a search for survivors.
In Teresopolis, a town 40 miles (65 kilometers) north of Rio, flash floods tossed cars into trees and mudslides poured tons of red earth over houses below. At least 114 died, according to a local Civil Defense official who spoke on condition of anonymity because she was not authorized to release the information. She added that 10 inches (26 centimeters) of rain fell on the town during 24 hours.
Survivors waded through waist-high water, carrying what belongings they could, trying to reach higher ground. Flood water continued to flow down the mountains, though rains had stopped.
"I've lived here 25 years and I've never seen anything like it," Teresopolis citizen Manoel Rocha Sobrinho told the
Folha de S. Paulo
newspaper. "I live on high ground and when I looked below, I only saw a sea of mud. Most people saved themselves by climbing trees."