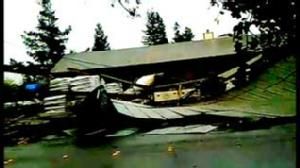 A blast of high wind slammed into a Santa Rosa neighborhood early Friday, damaging a landscape company while a rare tornado warning was issued for San Mateo County as a winter storm ravaged the Bay Area.
The gust struck Santa Rosa's Sequoia Landscape Materials on Pacific Avenue and King Street, ripping off the roof. Witnesses said they saw a funnel cloud moments before the gust hit the neighborhood.
However, the National Weather Service could not confirm the winds were caused by a tornado until investigating the scene.
Owner Sue Minnigerode said she looked outside her business at 1330 King St. when she heard the wind howling around 9:45 a.m. and saw pieces of the 100-foot long shed fly onto nearby Pacific Avenue.
Debris from the shed landed in nearby power lines and on properties three houses away, she said.
"I saw the wind just pick up the roof and blow it up into the air," Minnigerode told the Press Democrat.
At around 11 a.m., the NWS Doppler radio indicated a tornado cloud had been spotted over Belmont moving northeast at 40 mph.
A tornado was in effect for San Mateo County until at least 11:30 a.m.