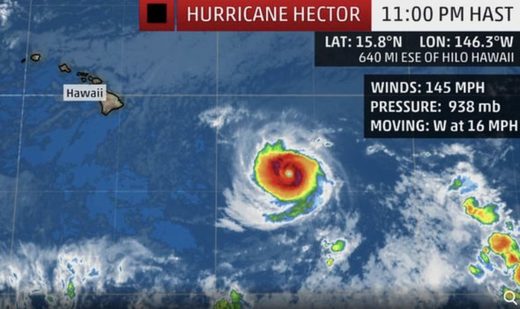 Several interesting things caught our eye in the tropics in the past week, including Hurricane Hector's length of time as major hurricane in the northeastern Pacific Ocean, Tropical Storm Debby's formation in the Atlantic Ocean, an active eastern half of the Pacific Ocean and Typhoon Shanshan's scrape with Japan.
Below, we'll go into greater detail about each of these notables.
Hurricane Hector Sets Record in Northeastern Pacific Ocean
Hurricane Hector
passed well south of the Big Island of Hawaii on Wednesday as a major hurricane, one classified as Category 3 or higher on the
Saffir-Simpson Hurricane Wind Scale
.
Hector generated high surf and breezy conditions on the Big Island, with no more than a few outer rain showers scraping portions of that island.
As of Saturday morning, Hector was still maintaining Category 3 intensity about 1,000 miles west of Hawaii.
That means it had been a major hurricane for at least 7.5 consecutive days, the longest duration any hurricane in the northeastern Pacific Basin has held that intensity
, according to Colorado State University tropical scientist
Dr. Phil Klotzbach
.