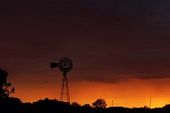 A series of powerful storms packing heavy rains and frequent lightning strikes grounded dozens of flights, left hundreds of thousands without power and caused widespread damage across portions of Texas on Thursday.
No deaths or injuries were reported from the storms that began whipping the Dallas-Fort Worth area Wednesday night with winds up to 70 mph. By the time the storms cleared the city, some areas of Dallas got more than 8 inches of rain.
More than 180,000 homes and businesses were without power Thursday night, said Megan Wright, a spokeswoman for Oncor Electric Delivery.