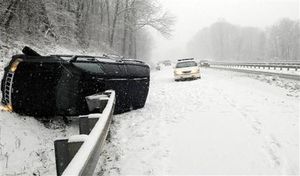 A winter storm that brought a rare white Christmas to parts of the South was barreling up the East Coast early Sunday, with forecasters predicting 6 to 10 inches of snow for Washington and blizzard conditions for New York City and New England.
Airlines canceled hundreds of Sunday flights in the Northeast corridor, with more likely to come as the storm intensifies.
Maryland, Virginia and North Carolina declared states of emergency early Sunday or Saturday night. As North Carolina road crews tried to clear snowy and icy highways, Mid-Atlantic officials spent Christmas Day preparing for up to a foot of snow, plunging temperatures and high winds.
"Our concern is tomorrow it's going to get significantly colder," Virginia Gov. Bob McDonnell told The Weather Channel on Saturday evening. "Winds with gusts up to 45 miles per hour will cause blowing snow and that's going to cause the worst of it ... and we're urging extreme caution in travel. Try to get home early and if you don't have to travel don't go."
Continental Airlines canceled 250 Sunday departures from Newark Liberty International Airport outside New York City. United Airlines announced late Saturday that it had canceled dozens of Sunday departures from Newark, Philadelphia, New York's LaGuardia and JFK, Boston and other airports. AirTran also canceled flights, as did Southwest Airlines, mostly in or out of Washington Dulles, Baltimore and Newark.