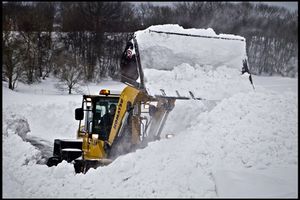 Copenhagen - Authorities on the Baltic Danish island of Bornholm called for help to clear the roads on Tuesday as some of the island's 43,000 snowed-in inhabitants are running short of fuel and medicine.
"You can't even imagine how bad this is. The roads are closed, and they are digging and digging, and they just can't get through
," said Helle Skov Olesen, who lives on the island nestled between Sweden and the northern coasts of Germany and Poland.
"They don't even know where to put the snow," she told daily Politiken.
Denmark's meteorological institute (DMI) measured 140 centimetres (55 inches) of snow on Bornholm, "the equivalent of the amount of snow at various ski resorts," Steen Rasmussen of the institute said.