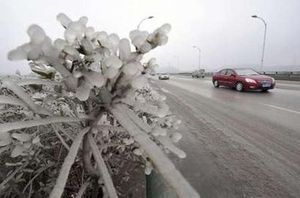 Torrential icy rain across five provinces in southern China has forced 58,000 people to evacuate from their damaged homes, causing economic losses of $203.8 million, the ministry of civil affairs said on Wednesday.
Freezing rain has pummeled the provinces of Jiangxi, Hunan, Chongqing, Sichuan and Guizhou in the past few days, killing one person and causing more than 1,200 houses to collapse, the ministry added.
The harsh weather in southern China,
where winter is usually relatively mild
,
has damaged 142,400 hectares of crops in the provinces that produce rice, timber and coal
and caused economic losses of 1.35 billion yuan ($203.8 million) as of Tuesday, the ministry added.
In southwestern Guizhou province, 22,800 people were forced to evacuate from their homes on Tuesday, state news agency Xinhua reported.