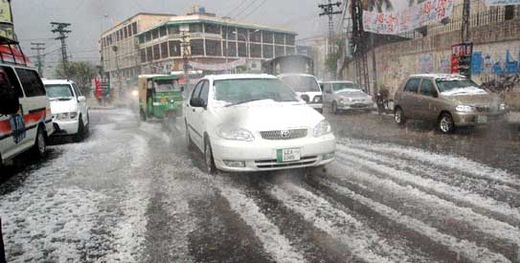 The storm struck the city at 4.45pm, concentrating its intensity downtown and in areas around Gulberg. Hailstones the size of small strawberries soon carpeted streets and rooftops.
People watched the freak turn of weather with a pleasant surprise. At some places some people panicked and started giving "azans".
A traffic gridlock followed the hailstorm, making driving a misery on roads awash with a hail of stones.
But on the other hand, motorists were seen relishing the happening instead of fuming over the traffic jam and the young made the most of the opportunity by playing with hailstones. Mobile phones were taken out to take stills and make movies of the falling hailstones.
Reports from different parts of the city indicated the storm was partial as many localities like Faisal Town merely received a light shower.