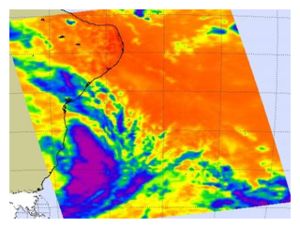 NASA's Aqua satellite spotted some strong convection in a recently formed low pressure area that strengthened into Sub-Tropical Storm Arani in the South Atlantic. Arani formed near the coast of Brazil and is now moving away from it.
Tropical cyclones in the Atlantic are a rare occurrence and since 2004 there have only been three of them, Arani being the third.
On March 14, 2011 at 1553 UTC (11:53 a.m. EST) the Atmospheric Infrared Sounder (AIRS) instrument that flies aboard NASA's Aqua satellite captured an infrared image of Sub-Tropical Storm Arani moving away from the Brazilian coast. Most of the convection and thunderstorms were limited to the eastern half of the storm at the time of the image. The strong areas of convection (rapidly rising air that condenses and forms the thunderstorms that power a tropical cyclone) appeared on the imagery as a sideways boomerang, and were off-shore, paralleling the coast.
AIRS measured the temperatures in those strong areas of convection and found they were as cold as or colder than -63 Fahrenheit (-52 Celsius) indicating some strong thunderstorms with heavy rainfall. That heavy rainfall was occurring off-shore. NASA's AIRS imagery is created at NASA's Jet Propulsion Laboratory in Pasadena, California.
On March 15 at 1500 UTC (11 a.m. EST), the Brazilian Navy issued a special marine warning for the Brazilian coast. The warning stated that Sub-Tropical Storm Arani was located near 24.0 South latitude and 37 West longitude. Arani had a minimum central pressure of 998 millibars and was moving east-southeast near 10 to 15 knot winds.