Mukilteo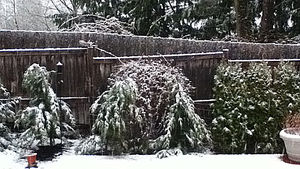 , Wash. - Residents in Western Washington's Convergence Zone received a winter's flashback Wednesday morning.
Snow and hail fell in several locations, catching many by surprise.
"We got two inches," said Kelvin Lawrence of Granite Falls. The city cooled off enough to see snow fall and stick around throughout the afternoon until the sun began to melt things.
"Not a pretty thing to wake up to in April," said Michelle Stetka. "I'm ready for spring."
A winter storm warning remained in effect for the Olympics and Cascade Range Wednesday morning.