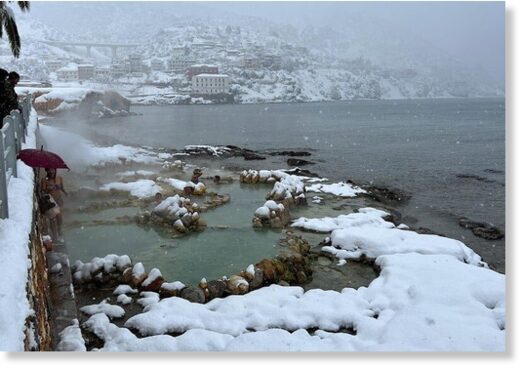 The Barbara weather front continues to bring low temperatures, frost, and heavy snowfall in several parts of Greece for a third day on Tuesday.
Residents in the Central Greece regional units of Viotia, Fthiotida, Magnesia and Evia have been urged to "drastically limit movements and follow the instructions of the authorities" due to heavy snowfall in their area.
The warning was issued via the 112 service to mobile phones shortly before 9.30 a.m. as the Barbara cold weather front caused schools in various parts of the country to close for a second day.
Parts of the city of Volos were reported to be covered in up to 20 centimeters of snow, with heavy snowfall was also reported in Pilio and Zagora, all of which are in Thessaly.
Heavy snow is also reported in Hania, Crete,
with parts of Evia island covered in up to a meter of snow.
Hellenic Electricity Distribution Network Operator said it was on alert for power cuts due to the weather, and had placed over 150 people on call on Evia, hard hit by snow.