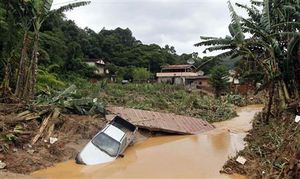 Rescue workers dug desperately for survivors on Thursday and struggled to reach areas cut off by floods and landslides that have killed at least 443 people in one of Brazil's deadliest natural disasters in decades.
Torrents of mud and water set off by heavy rains left a trail of destruction through the mountainous Serrana region near the city of Rio de Janeiro, toppling houses, buckling roads and burying entire families as they slept.
"It's like an earthquake struck some areas," said Jorge Mario, the mayor of Teresopolis, where 185 people were killed and scores more were feared dead.
"The death toll is going to climb a lot. There are a lot of people buried who can't get help because rescue teams can't get there," Mario said, adding that three of the town's neighborhoods were destroyed by the flooding.
The mudslides swept away the homes of rich and poor alike in and around Teresopolis and other towns, likely causing billions of dollars in damage. But the brunt of the disaster was borne by poorer rural residents in houses built in risky areas without formal planning permission.
The floods have not affected Brazil's main export crops -- soy, sugar cane, oranges and coffee -- although they could push up local food prices further as the small Serrana region is an important producer of fruit and vegetables for the Rio metropolitan area.
Television images showed rescuers trying to haul residents from raging floodwaters, and going through the ruins of homes in search of survivors, often finding only corpses. One success came when a 6-month-old baby was rescued alive from the rubble of a house, drawing thunderous cheers from residents.