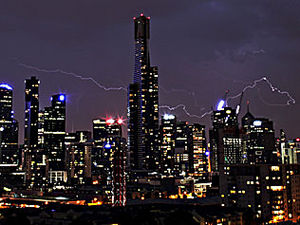 Wild thunderstorms have lashed Victoria for the second night in a row, causing flooding and lightning to strike houses.
Areas northwest of Melbourne received up to 60mm of rain, while the storms also brought down trees and power lines.
Gisborne, about 50km northwest of Melbourne, was worst affected, with the State Emergency Service receiving more than 60 calls for flash flooding.
SES operations manager Tim Wiebusch said extra crews were needed to help clean up.
"The word back we've had from the crews is it's large storm water drains that aren't coping with the downpour,'' Mr Wiebusch said.