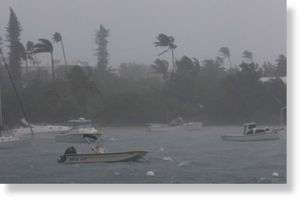 Fierce waves pounded the breakwaters and shores of Bermuda on Sunday, straining yacht moorings and battering oceanfront hotels as Hurricane Igor lashed the wealthy British enclave.
Bermudians battened down their homes in pelting rain to wait out Igor, a Category 1 hurricane with maximum sustained winds of 80 mph (130 kph). Some storm-seasoned islanders ventured outside to gawk at the 15-foot (5-meter) surf or to triple-tie boat moorings even as officials warned them to stay indoors.
"We are urging residents to please go home and stay in until it is all over," said government spokeswoman Beverle Lottimore.
Those who did venture outside were met with howling winds, and gusts of hurricane force were reported by midday. Flooding was reported in low-lying areas and streets in downtown Hamilton, the capital, were covered in several inches of water and littered with tree branches and other debris.