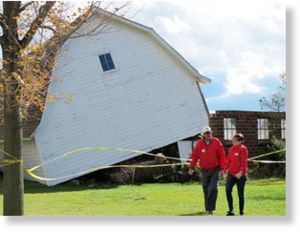 The Midwestern US is being battered by heavy rain and strong winds by a storm some forecasters are comparing to a category three hurricane.
Forecasters told residents of the state of Illinois to expect the most powerful storm to hit the region in over 70 years.
Tornado warnings were issued across the US from the state of Arkansas to Illinois's metropolitan hub of Chicago.
The storm delayed flights at the city's O'Hare International Airport.
Severe thunderstorm warnings have been announced across the Midwestern US, as the storm continues to charge through the country - moving from North and South Dakota to the eastern Great Lakes, on the border with Canada.
The storm is carrying with it pressure levels similar to a category three hurricane, meteorologist Amy Seeley said.