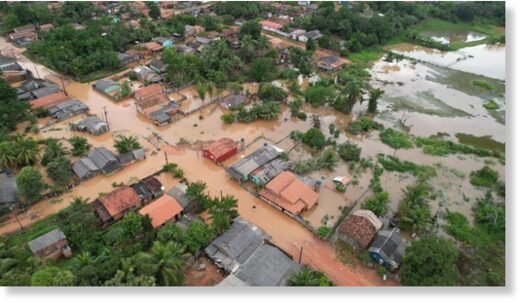 Thousands of people have evacuated their homes after flooding and landslides in several northern states of Brazil.
At least 6 people have lost their lives in the state of Maranhão and 3 in the state of Ceará.
Maranhão
Authorities in the state of Maranhão report that multiple municipalities in the state have declared a state of emergency in response to the recent heavy rainfall. Around 800 households have been displaced. Federal and state governments are distributing relief supplies including mattresses and food, mostly in Pedreiras and Santa Luzia.
One of the hardest hit areas is the municipality of Santa Luzia, where 2 people died in a landslide. Firefighters and the Tactical Air Center (CTA) participated in an operation to provide assistance to the population. In Açailândia, a vehicle was swept away by the flood and three people died. Dam failures caused flooding in the municipalities of Barra do Corda and Santo Antônio dos Lopes.