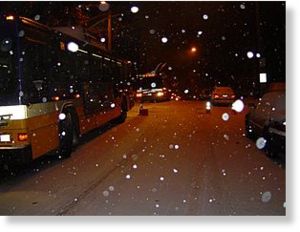 The Upper Midwest will become one of the nation's worst regions for Thanksgiving travelers to pass through today due to an invasion of snow and ice. The snow will continue to create slick roadways from far eastern Montana to the western shores of Lake Superior today. The snow will fall intermittently throughout the day over North Dakota, eastern South Dakota and neighboring parts of Canada.
This afternoon and evening is when the snow will create the most adverse conditions for motorists in Minneapolis and Duluth. airline passengers should prepare for substantial delays. As the snow continues into tonight, as much as 6 inches will accumulate from northern North Dakota to places in the vicinity of western Lake Superior. International Falls, Minnesota, lies within this zone.
Gusty winds will worsen the situation for travelers today by whipping the snow around, leading to reduced visibility. The strongest winds will blast the northern High Plains, where high temperatures will be held to the teens and single digits. These winds will create dangerous blizzard conditions at times. While a substantial amount of new snow will not fall today, the winds will have no trouble blowing and drifting the snow left by recent storm systems.
As of Tuesday afternoon, 5 inches of snow remained on the ground in Rapid City, South Dakota