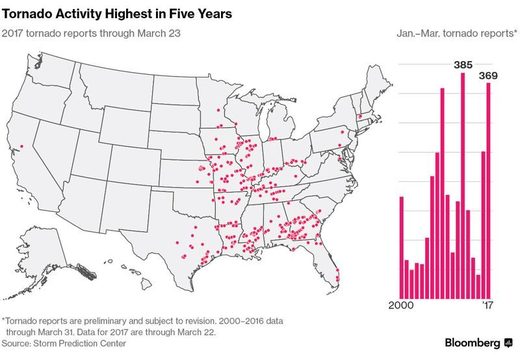 Another wave of tornado-spawning thunderstorms is set to rip across the Great Plains and South this week, putting the U.S. within reach of a record year for life-threatening twisters.
Severe storms will drench a swath of the country from Texas to Mississippi over the next five days, according to the U.S.
Storm Prediction Center
. Through Thursday,
369 tornadoes have been reported across the country, the most in five years and more than double the normal number of sightings.
An active jet stream and unusually balmy weather are to blame for the burst of deadly tornado activity, the storm prediction center said. Strong winds have dragged storms into the warm, humid air that's blanketed the eastern half of the nation, creating conditions ripe for a weather phenomenon that leads to at least $400 million in damage a year in the U.S.
"We have a severe threat starting today and continuing for each of the next five days through at least Monday," said Patrick Marsh, warning coordination meteorologist at the storm prediction center in Norman, Oklahoma. "Through mid-March, we are on a record or near-record pace."
The atmospheric moisture across the southern U.S. in January was more typical of April
, Marsh said.
A confirmed tornado touched down in central Massachusetts in February, a first, while there was still snow on the ground.