Comment:
This is the 2nd time this has happened this year on the very same Achill Island. In May, the sand at Dooagh - on the Western side of the island, that was washed away by freak storms 33 years ago leaving only bare rock,
reappeared to the delight of locals
. In the last few days, freak storms again were responsible for bringing the sand back to the beach at Ashleam Bay, this time on the Southern coast of the island.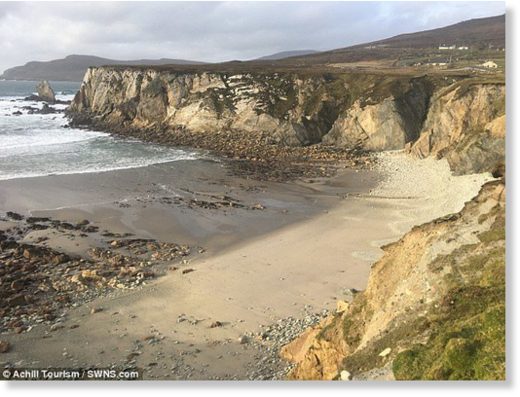 Islanders are celebrating after a beautiful beach which 'vanished' 12 years ago suddenly reappeared overnight.
The white sands of Ashleam Bay on the picturesque island of Achill off the coast of Mayo in Ireland were washed away during a freak storm in 2005.

But following recent freak weather locals noticed the beach had suddenly returned
- and are now enjoy a stroll on the sand once more.
Seán Molloy, manager of AchillTourism.com, said recent stormy weather had cleared the beach of rocks and boulders, and Storm Brian dumped a load of sand in their place.
Mr Molloy said:
'It came back after Storm Brian. It brought the first amount of sand and cleared the boulders that was on the beach way as well.