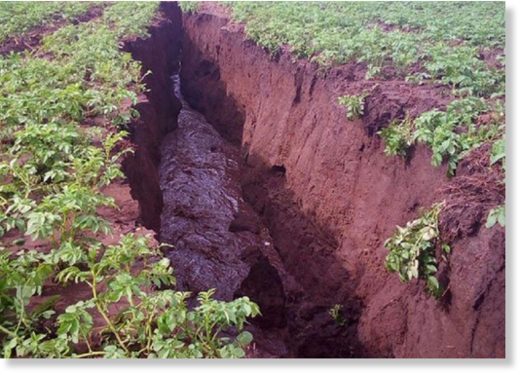 A month after a huge crack was reported in Kenya's Rift Valley,
another two-kilometre fault line has cracked open on Monday
on the outskirts of Naivasha town in Nakuru County where farms have been swallowed.
Local media reports say at least 16 families have moved to safe grounds as several acres of crops were destroyed by the crack that was filled with water believed to be from rains in other parts of the country, reports
Daily Nation.
"The heavy rains pounding this region have contributed in a way to the fault line ...
It's a 20-foot deep fault line
that runs across several agricultural farms. The families were asked to leave primarily for their safety," said Naivasha assistant county commissioner Joseph Opondo on Tuesday.