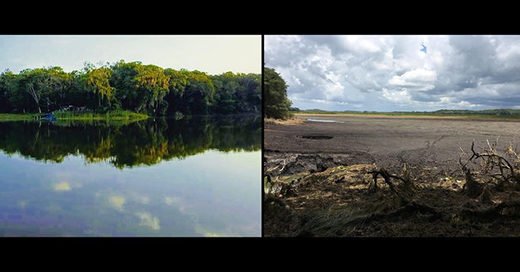 Since Sunday evening, the, located in Quintana Roo, Mexico is being drained by large sinkholes, killing a high number of fish, turtles, swamp crocodiles and eels, among other species. The sinkholes are about
six meters deep and up to 10 meters wide
, and have already drained practically 80% of the water contained in the 200 hectares and up to 10 meters deep lagoon of Chakanbacán. OMG!
According local reports,
a loud roar was heard on Sunday
. Just after, the lagoon started to drain underground. By Wednesday morning almost 3/4 of the lagoon had dried up. And this is not the first time that such a surprising and unexpected phenomenon has occurred in the area.
Yesterday, the authorities of the Environmental Protection Agency (PPA), Institute of Biodiversity and Natural Protected Areas in Quintana Roo (Ibanqroo), National Forestry Commission (Conafor), National Water Commission (Conagua), Federal Environmental Protection Agency (Profepa), Cocodrilia and ejido authorities, have started investigating the cause of the problem, pictured below: Sinkholes! Large sinkholes!