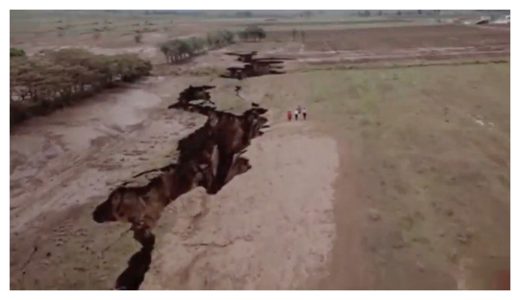 Things aren't looking good for Kenya right now-
the country is literally
splitting in two
.
Enormous rifts have opened within the ground, that stretch across a
large chunk of Kenya's countryside
.
One such tear, located in Narok County, is 66 feet in length and as much as 50 feet deep at its lowest point.
These rifts are causing a lot of trouble throughout the country, with commuters and supply trucks unable to travel safely without massive delays. One video that shows some of the devastation highlights an area of road that has to be filled in temporarily for the sake of keeping traffic flowing on a busy highway, but the solution is far from permanent, and only allows for a limited number of cars to make the crossing at any given time.
In other areas, conditions are even more terrifying for locals, with families having to abandon their homes out of fear that the rift will spear, swallowing their entire livelihoods whole.