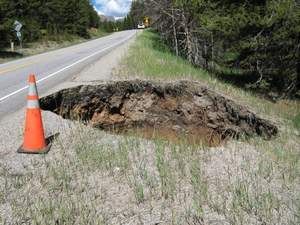 A 45-foot hole under the highway between Red Cliff and Leadville will keep road closed indefinitely
Leadville - A 20-by-30-foot round sinkhole that is at least 45 feet deep is keeping U.S. Highway 24 north of Leadville closed indefinitely.
Forty-five feet is as deep as Colorado Department of Transportation crews could measure Monday afternoon before engineers and geologists arrived, said Ashley Mohr, spokeswoman for the Colorado Department of Transportation.
After about 45 feet deep, the hole starts to curl back under the highway, sort of like an asphalt-eating serpent. They're not entirely certain how far it curls under the highway, Mohr said, they're just certain that it does.
The hole puts the highway, and motorists, in danger. CDOT closed the highway Monday afternoon to traffic in both directions.
It'll stay closed until they can figure out what happened and how they might fix it.