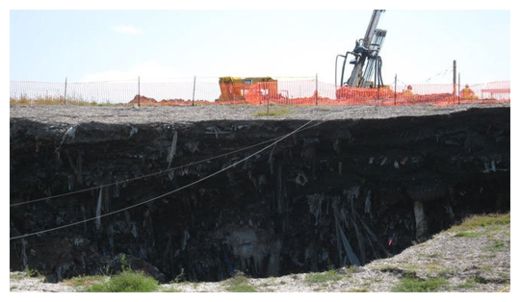 The sides of the sinkhole that swallowed up part of the Southeast County Landfill in Lithia four months ago collapsed last night. The avalanche of dirt did not widen the gaping 129-foot crater, but did deepen it by about 10 feet, officials said.
No one was injured and it is believed the dirt collapse was caused by the process that is aimed at filling the hole that is now estimated to be about 60 feet deep.
"We anticipated some movement, some additional sloughing of sidewall as a result of the pressure grouting," said Richard Siemering with HDR Engineering, which works with the Hillsborough County Solid Waste Department. He said the collapse delayed the process only a couple of hours until assessments could be made.
The grout is forced into the ground to shore up the bottom of the hole, he said, and it exerts pressure in all directions, including up. That can cause the bottom of the hole to shift and that's what caused the sides to fall in.