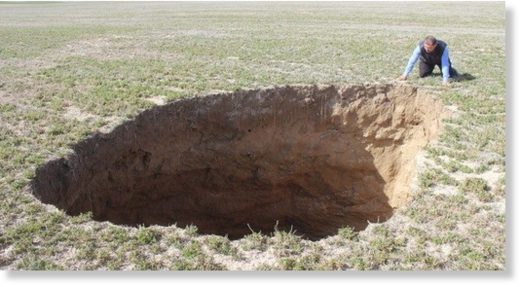 Uncontrolled and negligent use of groundwater threaten the Konya Plain in the eponymous central Turkish province, which is known as the "grain silo" of Turkey for its vast wheat fields.
The number of sinkholes has rose substantially in recent years due to excessive use of groundwater for irrigation, while authorities work on plans on how to fill the voids of
some 330 sinkholes
. No casualties were reported so far but sinkholes render a significant portion of fields unusable.
Sinkholes are almost exclusive to the Konya Plain, which stretches as far as neighboring province Karaman. The characteristics of the land, streaming direction of water, combined with underground waters' recline contribute to formation of sinkholes. Some are shallow while others
are as deep as 150 meters
. Sinkholes are a fairly recent phenomenon but uncontrolled use of water since 1970s is the main factor behind their rise.The State Hydraulics Works Agency declared areas with multiple sinkholes off-limits to use of groundwater as a precaution and works to inform farmers on how to properly use water for irrigation without draining up the water resources.