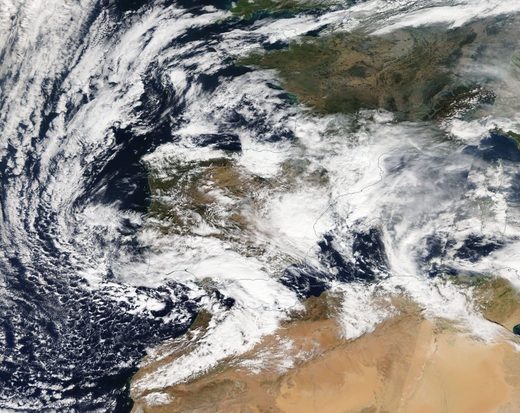 The phenomenon, caused by the arrival of very cold polar air, is expected to bring 180 millimeters of rain in 12 hours, affecting Catalonia, Aragón, Valencia, Andalusia, Balearics and Murcia
More extreme weather has been forecast for Spain just days after tropical storm Leslie swept across the country and
flash flooding
in the Balearic Islands left
13 people dead in Mallorca
, including a British couple and two German nationals.
Spain's national weather service AEMET has issued a special warning for "rain and intense, generalized and persistent storms" for the eastern side of the peninsula and the Balearic Islands. The extreme weather is expected to hit on Thursday and last until Sunday.
While the
gota fría
- or "cold drop," a term used to describe a sudden fall in temperatures along the east coast caused by the arrival of very cold polar air - is "typical" of Spanish falls in the Mediterranean, AEMET spokesperson Rubén del Campo says
a drop of this intensity has not occurred since October 2008.
Aragón, Catalonia, Valencia, Andalusia, the Balearic Islands and Murcia will be the worst-hit regions in Spain and a red alert - the highest on the scale - has been issued for Castellón on Thursday and Friday.
According to Del Campo, the extreme weather is due to two low pressure areas. "The first will move to the south of the Peninsula this Thursday while the other will be in the Mediterranean and near the Balearic Islands," he explains.
Both low-pressure zones can bring
torrential rain
but by "interacting and joining together" they cause "instability" in the upper layers of the atmosphere and lead to storms and "humid wind along the length of the Mediterranean Sea," says Del Campo. These ingredients create "a cocktail of strong, persistent and intense rain," he says.