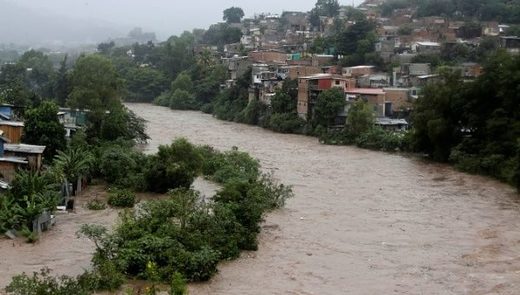 Tropical Storm Michael has rained on Honduras for days, killing at least 6 and forcing over 3,200 to evacuate their homes. Several departments are on red alert.
Honduras continues to get hard hit by two low-pressure systems
- one from the Caribbean and the other from the Pacific - creating torrential downpours and mudslides that have killed at least six people since Thursday and left another missing, according to local media.
The heaviest rains are falling mainly around the capital of Tegucigalpa and two departments that border the Pacific coast, areas that President
Juan Orlando Hernandez
placed on red alert on Oct. 6. The rest of the country remains under green alert.
Over 7,000 people have been negatively affected so far by the rains and mudslides that the Permanent Risk Commission of Honduras (Copeco) reports are the result of Tropical Storm Michael. Accuweather reports that the
tropical storm
is quickly turning into a hurricane
and is
predicted to affect Cuba and Jamaica
before heading up the Atlantic coast of the United States this week.