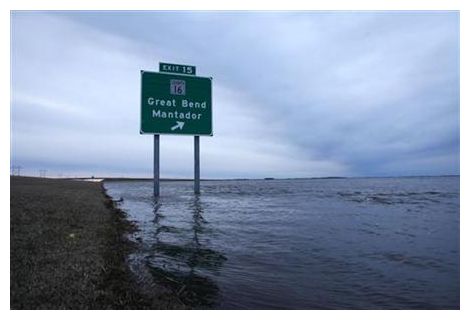 The swollen Red River crested at the third highest level on record at Grand Forks, and flood conditions were complicated by forecasts for snow and freezing temperatures, forecasters said on Friday.
The Red River reached a preliminary crest at 49.87 feet on Thursday at Grand Forks and continues to spread out across regions north of the city, reaching eight miles wide or more at Oslo, Minnesota, which has become an island amid the swells, the National Weather Service said on Friday.
The Red River forms the North Dakota-Minnesota border, flowing north into Canada. A tributary system stretching from southern Canada and South Dakota feeds into the main Red River as it reaches toward Lake Winnipeg in Manitoba.
"We will be dealing with flood issues throughout April and well into May," said Greg Gust, a U.S. National Weather Service warning coordination meteorologist. "It will be a long time before we push the last of the flood waters across the Canadian border."
At just under 50 feet, the Red River crest at Grand Forks was the third highest on record and three of four bridges are expected to stay closed at least well into next week.