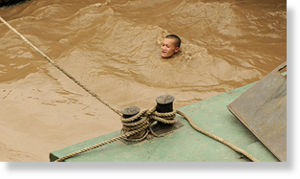 Flooding in China that has killed more than 700 people this year is the deadliest in a decade and looks set to worsen as the country gets deeper into typhoon season, the government warned Wednesday.
But officials, in the first high-level press briefing on weeks of deadly flooding plaguing much of the country's southern half, said a disaster on the scale of historic 1998 flooding on the Yangtze River would likely be averted.
A total of 701 people have died so far this year in flooding that has also left 347 people missing, Liu Ning, head of the country's flood control authority and vice minister of water resources, told reporters.
He said the annual rainy season would continue at least through August, and that more downpours were expected, further straining reservoirs and other water control projects, especially as the East Asian typhoon season has just begun.