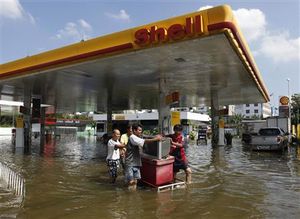 Thailand announced a five-day holiday on Tuesday to give people the chance to escape floods closing in on Bangkok as authorities ordered the evacuation of a housing estate on the outskirts of the city after a protective wall gave way.
The cabinet declared October 27-31 a holiday in Bangkok and 20 provinces affected by the country's worst flooding in 50 years as weekend high tides in the Gulf of Thailand could complicate efforts to divert water away from the low-lying capital.
The floods have forced the closure of seven industrial estates in Ayutthaya, Nonthaburi and Pathum Thani provinces bordering Bangkok, causing billions of dollars of damage, disrupting supply chains for industry and putting about 650,000 people temporarily out of work.
The cabinet announced a 325 billion baht budget on Tuesday to help rebuild the country, mostly for small and medium-sized enterprises (SMEs), small vendors and individuals.