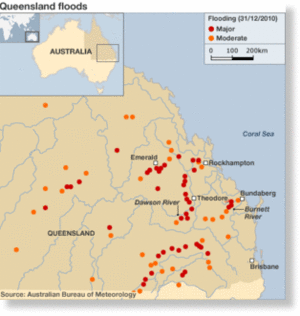 A senior official has described the flooding in Queensland, Australia, as a disaster of "biblical proportions".
State Treasurer Andrew Fraser said the economic impact would be severe, with huge costs compounded by lost income from mining, farming and tourism.
Rockhampton, where 77,000 people live, is the latest city bracing for impact, amid warnings of 30ft (9m) floodwaters.
More than 20 other towns have already been left cut off or flooded across an area larger than France and Germany.
The crisis has been triggered by Australia's wettest spring on record. At least six river systems across Queensland have broken their banks. The floods have affected about 200,000 people, and many have been evacuated.
"We're still directly battling floodwaters, we haven't seen the peak of the flood yet at centres like Rockhampton," said Prime Minister Julia Gillard, who toured the stricken areas.