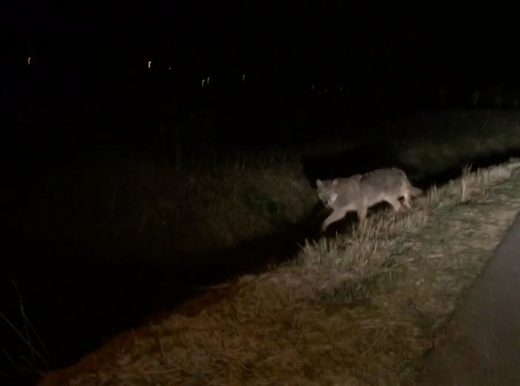 While Belgian farmers
spotted
a wolf near the Belgian town of Meerhout in January this year, its first wolf sighting in 100 years, a wolf was spotted in the Dutch eastern province of Gelderland on Wednesday morning. The wolf was seen in several places, and was photographed and filmed.
Experts from the Dutch
Wolven in Nederland
and the German
Lupus Institut
- organisations specialized in wolves - confirmed the sighting. It's
the third wolf sighting in the Netherlands so far this year
.
The wolf was first spotted in the early hours of the morning. A driver used the headlamps of his car to shine light on the animal before he filmed it in the Betuwe, an area in Gelderland. Several hours later, a wolf was spotted 10 kilometers to the west, along the Nether Rhine. Later, a wolf was seen on the other side of the Nether Rhine.
Wolven in Nederland
suggests
the sightings are all of the same wolf.
In addition, this wolf could have been the same animal that was spotted across the border in the German town of Rees a couple of days earlier, on February 19th.