With the pace of Earth Changes apparently quickening in 2016, we've decided to publish this second Summary video for the month of January.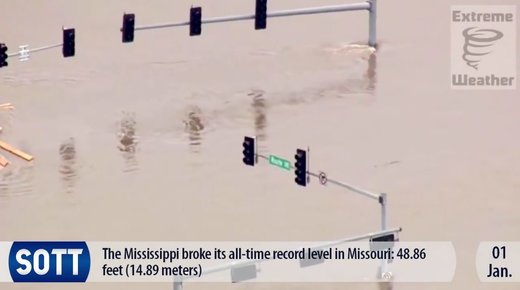 The flooding of the great Mississippi River Basin in early January - which followed record-breaking rainfall over the New Year - was
unprecedented for wintertime
. The only similar event was the Great Flood of 1937, but back then just one tributary - the Ohio River - flooded. Last month saw the Illinois, Ohio, Missouri, Arkansas and Meramec Rivers - and the Mississippi itself - all burst their banks, flooding parts of Illinois, Missouri, Kentucky, Arkansas and Tennessee. There are no records in US history of such happening before.
In addition
, the rivers crested at
all-time
record heights in a number of places.
The US Northeast and mid-Atlantic regions flipped from experiencing their
warmest ever temperatures for December and early January
... to being buried under
a record-breaking 3-day blizzard that killed 55 people
. The North American cold wave extended as far south as Veracruz, southern Mexico, which is experiencing its "coldest winter in history." At the same time, a powerful cold wave in East Asia extended as far south as central Vietnam, where snow fell
for the first time ever
. An unusual cold wave also extended deep into the Middle East, where hail turned the Arabian Desert white and
snow reached as far south as Kuwait (another first!)
.