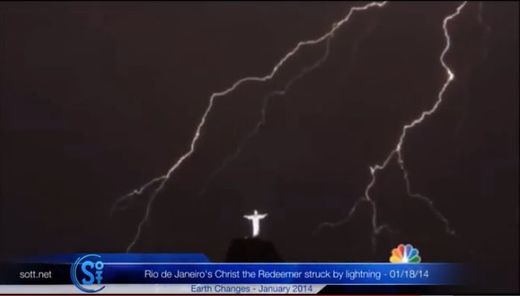 ---
Signs of the Times in January 2014
The first in a new monthly series, the following video compiles footage of 'signs of the times' from around the world during the past month. From 'strange lights' in the skies to extreme weather events, from geological upheaval in the form of volcanic eruptions, sinkholes, landslides and earthquakes to loud booms rattling communities and meteor fireballs turning night into day, the Big Blue Marble is rocking and rolling!
High Strangeness
Some of the highlights in January 2014 include bizarre apparitions of 'UFOs'. Many explain away strange lights in the sky as 'Chinese lanterns' or 'optical illusions' from refractions of man-made or natural light sources in the atmosphere. Some of these apparitions may well be down to such things, but are all of them? Certainly, people making hoax videos with free CGI software have far too much time on their hands, but not everyone is able or willing to do that.
Fire in the Sky
Then there's that other subset of 'strange lights in the sky': meteor fireballs. Distinct in appearance from the largely stationary 'UFO lights', fireballs generally leave a brief 'flash' and trail in the night sky, illuminating the ground for miles around. But as you'll see, several in January appeared to move very slowly, and some were filmed during the daytime. Depending on the size, trajectory and other variables of an incoming space rock, its fragmentation in the upper atmosphere may also produce an audible boom, or series of booms. Something else to keep in mind, however, is that many of these 'mystery booms' being reported across the U.S. and elsewhere may be related to increased seismic activity...
Earth Changes
...which brings us to 'Earth Changes'. More 'long-dormant' volcanoes woke up along the Pacific Ring of Fire last month, another strong earthquake hit New Zealand, wildfires raged in record-breaking heat across Australia and a sinkhole swallowed a whole neighbourhood in Brazil. In the northern hemisphere, it was so cold in Norway that seawater froze, trapping shoals of fish inside the frozen ice... and yet it was apparently also so 'hot' that wildfires broke out near the Arctic Circle. While a succession of hurricane-force storms drenched the UK and Western Europe with giant waves and record flooding, cold temperature and snowfall records over 100 years old were broken across the U.S. as a 'polar vortex' gripped the entire Eastern half of the nation in ice age conditions.
Environmental upheaval, signs in the heavens, wars and rumors of wars, social revolution... it's nothing the planet hasn't seen before, but it's also something new to modern civilization. As the ancient Chinese put it, we certainly appear to be living in 'interesting times'...
---
Knowledge protects, ignorance endangers