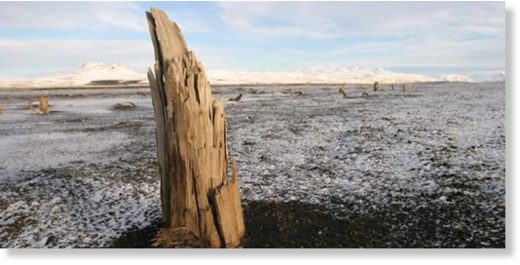 An international group of researchers has dated a large volcanic eruption in Iceland to within a few months. The eruption, which is the oldest volcanic eruption to be precisely dated at high northern latitudes, occurred shortly before the first permanent human settlements were established, when parts of the now mostly treeless island were still covered with forest.
The team, which included volcanologists, climatologists, geographers and historians among others, used a combination of scientific and historical evidence to pinpoint the eruption date of the Katla volcano between late 822 CE and early 823 CE, decades before the earliest settlers arrived. Their results are reported in the journal
Geology
.
In a similar way to how fossils can be used to understand the development and evolution of life on Earth, different types of environmental evidence can be used to understand what the Earth's climate was like in the past and why. The 'fingerprints' contained in tree rings and ice cores help scientists to estimate past climatic conditions and extend our understanding of the interaction between humans and the environment hundreds and thousands of years back in time.