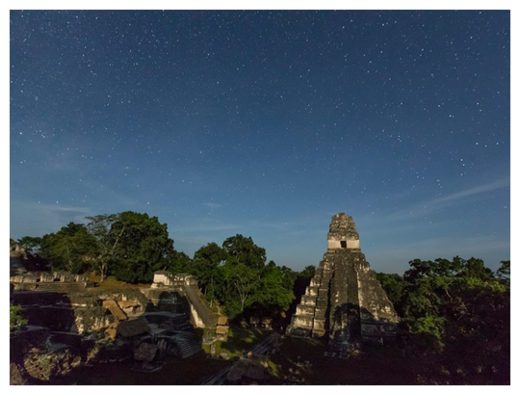 Using state-of-the-art computer models, an amateur historian and a professional astronomer have found evidence that many important societal events recorded in Mayan hieroglyphic inscriptions may coincide with outbursts of meteor showers related to Halley's Comet.
In newly published research, the two-person research team has found more than a dozen instances of hieroglyphic records from the Mayan Classic Period (250-909 CE) indicating that important events occurred within just a few days of an outburst of
Eta Aquariid
meteor showers, one of the celestial displays tied to the comet.
No Mayan astronomical records from that period survived the Spanish invasion, and the four surviving Mayan codices from later eras do not mention meteor showers. However, the researchers suspect that many significant historical events that coincided with meteor showers, like a ruler's assumption of power or a declaration of war recorded in the codices and carved in stone monuments, are not chance overlaps.
Instead, the Maya most likely predicted meteor showers, the researchers argue in
a paper, already available online
, that will be published in the 15 September issue of
Planetary and Space Science
. What's more, the ancient civilization might have purposefully timed significant occasions to coincide with portentous celestial events.
If this new research is validated by further computational tests, it would help address a longstanding puzzle, said
David Asher
, an astronomy research fellow at Armagh Observatory in Northern Ireland: How did the ancient Maya, a civilization that meticulously recorded astronomical information about Venus, eclipses, and seasonal patterns, fail to note meteor showers in their astronomical studies? They likely did record meteor showers, assert Asher and his colleague
Hutch Kinsman
, who has been an independent scholar of Mayan history and hieroglyphics for nearly 25 years, but the records were lost to us.