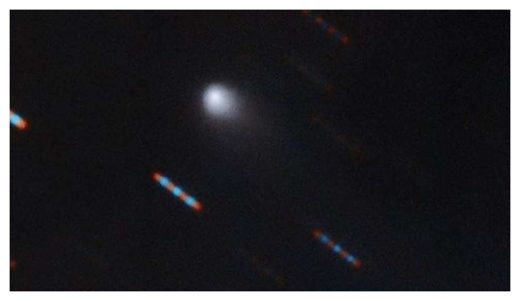 When the mysterious object known as 'Oumuamua passed Earth in
October of 2017
, astronomers rejoiced. In addition to being the first interstellar object detected in our Solar System, but its arrival opened our eyes to how often such events take place. Since asteroids and comets are believed to be material left over from the formation of a planetary system, it also presented an opportunity to study extrasolar systems.
Unfortunately, 'Oumuamua left our Solar System before any such studies could be conducted. Luckily, the detection of comet
C/2019 Q4 (Borisov)
this summer provided renewed opportunities to study material left by outgassing. Using data gathered by the
William Herschel Telescope
(WHT),
an international team of astronomers found that 2I/Borisov contains cyanide.
But as Douglas Adams would famously say, "Don't Panic!"
The study, which recently appeared in
The Astrophysical Journal Letters
, was led by Prof. Alan Fitzsimmons of the
Astrophysics Research Centre
at Queen's University Belfast. He was joined by members of the
European Southern Observatory
(ESO), the
Institute for Astronomy
, the
STAR Institute
, the ESA's
NEO Coordination Centre
, the
National Institute for Astrophysics
(INAF), and multiple universities.