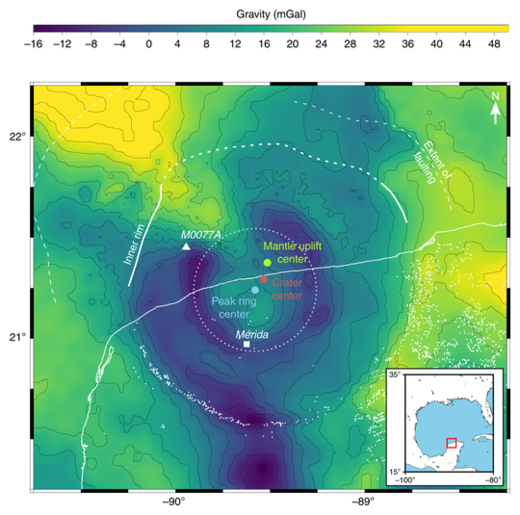 The asteroid that
most believe
wiped out the dinosaurs struck at the deadliest possible angle, according to new analysis combining 3D numerical impact simulations and geophysical data from the site.
The 66-million-year-old
Chicxulub
crater in Mexico was formed by a steeply inclined impact of between 45 and 60 degrees to the horizontal, the researchers suggest, which maximised the amount of climate-changing gases thrust into the upper atmosphere.
Such a strike likely unleashed billions of tonnes of sulphur, blocking the Sun and triggering the nuclear winter that killed 75% of life on Earth.
The researchers - from Imperial College London (ICL), the University of Freiburg, Germany, and the University of Texas, US - say their models are the first fully 3D simulations to reproduce the whole dramatic event, from the initial impact to the crater formation.
Reproducing the final stage, in which the transient crater collapsed to form the final structure, allowed them to make the first comparison between 3D simulations and the present-day structure of the crater.
"Our simulations provide compelling evidence that the asteroid struck at a steep angle, perhaps 60 degrees above the horizon, and approached its target from the northeast," says ICL's Gareth Collins, lead author of a
paper
in the journal
Nature Communications
.