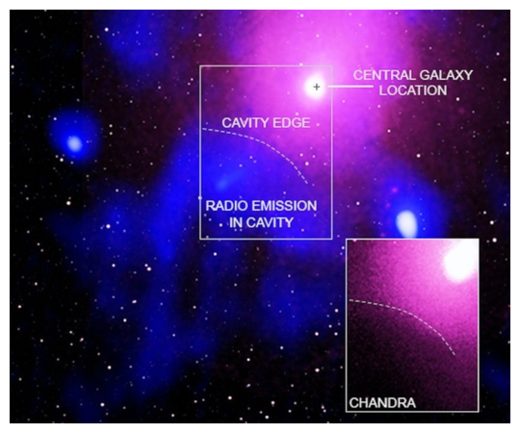 Scientists studying a distant galaxy cluster say they have discovered the biggest explosion seen in the Universe since the Big Bang.
It came from a supermassive black hole at the centre the
Ophiuchus
galaxy cluster, about 390 million light-years from Earth, and released five times more energy than the previous record holder, according to a
paper
to be published in
The Astrophysical Journal
and currently available on the pre-print server arXiv.
It was so powerful, the authors say, that it punched a cavity in the cluster plasma - the super-hot gas surrounding the black hole.
"We've seen outbursts in the centres of galaxies before but this one is really, really massive - and we don't know why it's so big," says Melanie Johnston-Hollitt, from the Curtin University, Australia, node of the International Centre for Radio Astronomy Research (ICRAR).
"But it happened very slowly - like an explosion in slow motion that took place over hundreds of millions of years."
The study brought together a team from Australia, the US and New Zealand.