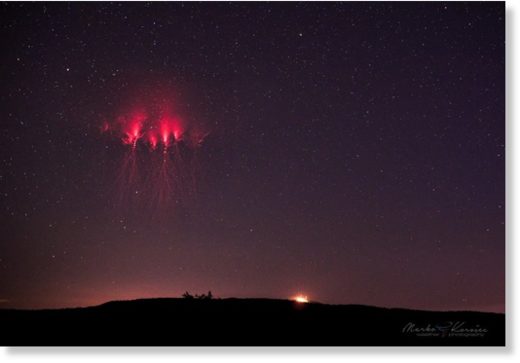 Have you noticed the
huge number of reported red sprites in the skies over Europe lately
? What are they? How are they detected? Is this normal?
Thunderstorms are electrically charged weather systems, and we are quite used to typical electrical discharges from storms - lightning. Lightning that we are most familiar with goes from the cloud to the ground, called cloud-to-ground lightning. However, thunderstorms discharge also upwards, above the storm. This is not typical lightning, but phenomena sometimes called upper atmosphere lightning and more appropriately transient luminous events.
There is an entire zoo of transient luminous events caused by electrical discharges from thunderstorms. Of these, red sprites are by far the most common. Red sprites happen when the parent thunderstorm unleashes a strong positive lightning bolt. Positive lightning is very powerful, typically 2x to 10x more powerful than typical negative lightning. It is also rare, with less than 5% of all lightning bolts being positive.