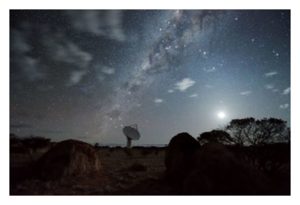 Australian Aborigines probably observed the cyclical changes in the brightness of pulsating red giant stars such as Antares, Betelgeuse, and Aldebaran. They integrated their observations into their oral traditions - cultural narratives that served as a system of laws, social rules, and general knowledge transmission.
European astronomers realized that red giants changed in brightness in 1596, when David Fabricius registered the variability of the star Mira. Johannes Hevelius went on to calculate the amplitude and periodicity of Mira's changes in 1662. But the oral traditions of Australian Aborigines could go much further back in time: they have inhabited the fifth continent for more than 65,000 years. Research examining oral tradition for geological events, such as volcanic eruptions or meteorite impacts, have shown that such
oral traditions can survive for thousands of years
.
Duane Hamacher (Monash University and University of Southern Queensland, Australia), found new references to variable stars after reinterpreting the accounts of 19th- and 20th-century anthropologists and ethnologists, who recorded some of the Aboriginal oral traditions. His results are being published in a new study in the
Australian Journal of Anthropology
.
According to Hamacher, anthropologists sometimes misinterpreted Aboriginal accounts in the past, wrongfully assuming them to refer to planets in the solar system rather than stars.
"Many anthropologists had limited training in astronomy, so misidentifications, conflated terminology, and errors were not uncommon," Hamacher says. "Mars and Antares are often mixed up because of their comparable brightness and occasional close proximity."
Hamacher found two oral traditions that referenced the variable stars Betelgeuse, Antares and Aldebaran. Their changes in brightness carried important weight in the narratives and helped encode certain social rules, such as signaling to the tribe when to celebrate initiation rituals.
This is the first clear evidence of indigenous peoples observing and recording stellar variation in oral traditions.
The only widely accepted record of a pulsating variable comes from an Egyptian papyrus called the Cairo calendar, which predicted good and bad luck periods throughout the year, dated around 1200 B.C. A statistical analysis of those periods revealed that they followed the variation of the
eclipsing binary star Algol
.