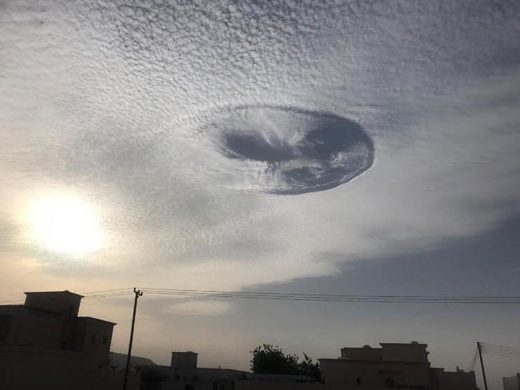 Also known as a hole punch cloud, it is often attributed to UFOs
A rare cloud sometimes mistaken for an alien invasion was spotted over Al Ain on Sunday.
The fallstreak hole, also known as a hole punch cloud, is a large circular gap that forms in cirrocumulus or altocumulus clouds.
The unusual phenomenon happens when supercool droplets that have not yet frozen mix with ice crystals caused by airplanes passing through the cloud.
The ice crystals then start to fall, causing water droplets around them to evaporate. This process leaves a large hole in the cloud.
Although science has already answered the question of what a fallstreak hole is, because of their rarity and unusual appearance, they are often attributed to unidentified flying objects.