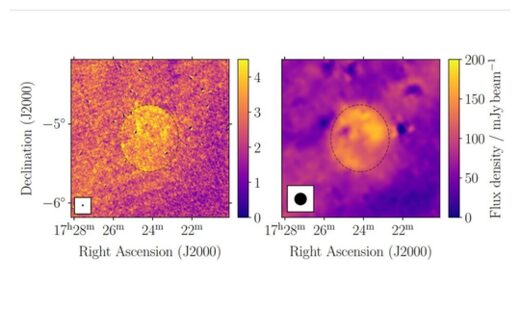 Astronomers from Costa Rica and Australia have
reported the detection of a new supernova remnant
(SNR) by inspecting a gamma-ray source known as FHES J1723.5−0501. The researchers found that this source is an SNR and it has been designated G17.8+16.7. The finding is detailed in a
paper published December 3 on arXiv.org.
SNRs are diffuse, expanding structures resulting from a supernova explosion. They contain ejected material expanding from the explosion and other interstellar material that has been swept up by the passage of the shockwave from the exploded star.
Studies of supernova remnants are important for astronomers, as they play a key role in the evolution of galaxies, dispersing the heavy elements made in the supernova explosion and providing the energy needed for heating up the interstellar medium. SNRs are also believed to be responsible for the acceleration of galactic cosmic rays.
FHES J1723.5−0501 (also known as 4FGL J 1723.5−0501e) is a gamma-ray source detected outside the galactic plane with NASA's Fermi spacecraft. Previous observations have revealed the presence of an unclassified radio shell along the southwestern edge of this source, suggesting that FHES J1723.5−0501 may be potentially associated to an SNR or a pulsar wind nebula (PWN).