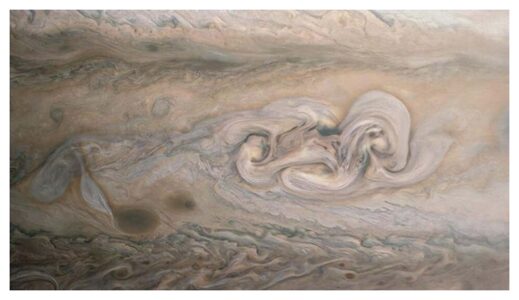 Last May, a spot suddenly
appeared
in Jupiter's southern hemisphere. But as new images from the
Juno
spacecraft show, the once
circular feature has morphed into an enigmatic splotch.
The feature was first detected by Clyde Foster, director of the Shallow Sky section of the Astronomical Society of Southern Africa, on May 31, 2020. Foster spotted the spot using his own 14-inch telescope, and, quite fortuitously, NASA's
Juno
probe made a close approach two days later, allowing for a close-up view of the new feature.
Clyde's Spot, as it's informally known, is a convective outbreak — a plume of cloud that's reaching out beyond the regular cloud tops — and is located to the southeast of Jupiter's Great Red Spot. Such outbreaks are not uncommon within the gas giant's South Temperate Belt.
On April 15, 2021,
Juno
performed its 33rd perijove (close flyby) of Jupiter, during which time it captured a new view of Clyde's Spot — or, at least what
used
to be Clyde's Spot. The
new image
was taken when the spacecraft was 16,800 miles (27,000 kilometers) above Jupiter's cloud tops. Citizen scientist Kevin M. Gill processed the image from raw JunoCam data, according to NASA.