The colours in the sky never cease to amaze me; from cool sunrises to brilliant sunsets, to rainbows and halos around the sun.
Karen Butler of Nanaimo snapped a few pictures of bright colours dancing across the clouds a few days ago, the result of a circumhorizon arc.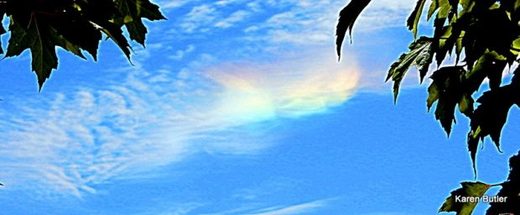 A circumhorizon arc is a halo of sorts, and it appears when the sun is very high in the sky - higher than 58°. It's typically oriented parallel to the horizon. Often it's only visible in fragments when cirrus clouds aloft are lit with a rainbow of colours. The colours are the result of sunlight passing through the ice crystals that make up the cirrus cloud. The crystals themselves act like a prism, essentially splitting the sunlight into the spectrum of colours.