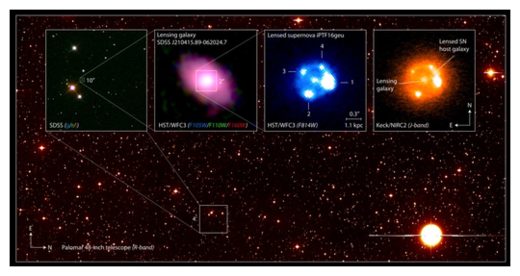 With the help of an automated supernova-hunting pipeline and a galaxy sitting 2 billion light years away from Earth that's acting as a "magnifying glass,'' astronomers have captured multiple images of a Type Ia supernova—the brilliant explosion of a star appearing in four different locations on the sky.
So far this is the only Type Ia discovered that has exhibited this effect.
This phenomenon called 'gravitational lensing' is an effect of Einstein's Theory of Relativity—mass bends light. This means that the gravitational field of a massive object like a galaxy can bend light rays that pass nearby and refocus them somewhere else, causing background objects to appear brighter and sometimes in multiple locations. Astrophysicists believe that if they can find more of these magnified Type Ia's, they may be able to measure the rate of the Universe's expansion to unprecedented accuracy and shed some light on the distribution of matter in the cosmos.
Fortunately, by taking a closer look at the properties of this rare event, two Lawrence Berkeley National Laboratory (Berkeley Lab) researchers have come up with a method a pipeline for identifying more of these so-called "strongly lensed Type Ia supernovae" in existing and future wide-field surveys. A paper describing their approach was recently published in the
Astrophysical Journal Letters
. Meanwhile, a paper detailing the discovery and observations of the 4 billion year old Type Ia supernova, iPTF16geu, was published in
Science
on April 21.
"It is extremely difficult to find a gravitationally lensed supernova, let alone a lensed Type Ia. Statistically, we suspect that there may be approximately one of these in every 50,000 supernovae that we identify," says Peter Nugent, an astrophysicist in Berkeley Lab's Computational Research Division (CRD) and an author on both papers. "But since the discovery of iPTF16geu, we now have some thoughts on how to improve our pipeline to identify more of these events."